Career Guidance Unit
University of Kelaniya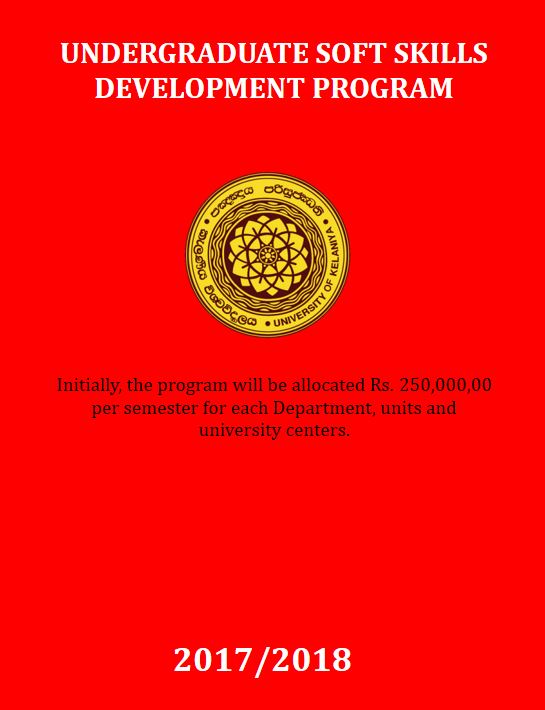 Introduction:
Universities are supposed to be social institutions, which provide facilities for higher intellectual needs of a community as regards both academic knowledge and professional training. The recent experience reveals that even talented graduates have to wait for a long time to be employed after the graduation. Many of the graduates have passed out obtain a certificate, which does not help enough them to find suitable employment. Under this background, universities and higher education institutions are exploring ways of increasing the employability of their graduates and realized that employers expect something more than the theoretical knowledge and work-related skills in graduates.  Acquiring soft skills competencies becomes increasingly important and relevant for those who are seeking employment. 
Soft Skills Defined:
Soft skills are defined in many ways and are called by many other names including transferable skills and 21st century skills. Robles (2012) captured their essence quite well when he described them as "character traits, attitudes, and behaviours, rather than technical aptitudes or knowledge." These are the attributes that help workers adapt to new jobs, overcome obstacles, develop productive relationships with their co-workers and supervisors, and thrive in the workplace.
In simple "Soft skills" can be defined as a complex system of traits and habits commonly sought by employers. Examples include confidence, flexibility, honesty, and integrity, the ability to see things from different perspectives, optimism, and common sense. The most sought-after and popular soft skills include problem-solving, thinking inventively, the ability to compromise, negotiate and persuade, the ability to mentor, teach, communicate, network and perform public speaking. Other skills include the ability to follow directions - even when they are unspoken; understanding what needs to be done and doing it, having good manners and being courteous, seeking out opportunities for continuing education, doing a job thoroughly and correctly and an ability to admit and correct mistakes.
The following list provides a brief illustrative overview of the knowledge, skills, work habits, and character traits commonly associated with 21st-century skills:
Critical thinking, problem-solving, reasoning, analysis, interpretation, synthesizing information

Research skills and practices, interrogative questioning

Creativity, artistry, curiosity, imagination, innovation, personal expression

Perseverance, self-direction, planning, self-discipline, adaptability, initiative

Oral and written communication, public speaking and presenting, listening

Leadership, teamwork, collaboration, cooperation, facility in using virtual workspace

Information and communication technology (ICT) literacy, media and internet literacy, data interpretation and analysis, computer programming

Civic, ethical, and social-justice literacy

Economic and financial literacy, entrepreneurialism

Global awareness, multicultural literacy, humanitarianism

Scientific literacy and reasoning, the scientific method

Environmental and conservation literacy, ecosystems understanding

Health and wellness literacy, including nutrition, diet, exercise, and public health and safety
Having understood the aforementioned essentialities in the job market, as a responsible unit in the University of Kelaniya, Career Guidance Unit (CGU) wish to propose to allocation some funds to the departments / units / centres to conduct Soft Skill Development Programs for in the university undergraduates to enable them with relevant soft skills which in turn will enhance their employment potentials and life satisfaction.
Objectives:
The main objective is to create opportunities, space, and scope for the development of the soft Skills of university undergraduates.
·         To develop self-confident individuals by mastering soft skills
·         to give each student a realistic perspective of work and work expectations
·         To develop all-around personalities with a mature outlook to function effectively in different circumstances.
Scope of the Programs:
The new programme aims at providing funds for skill development facilities to entire undergraduates, covering each department, units and the centers of the university. The Departments have a freedom to develop their tailor-made programs to fulfill their unique student requirements. Further, there are no maximum limitation programs to conduct. Department can plan any amount of programs or chain of activities under the fund's limitation.
Fund allocation:
Initially, the program will be allocated Rs 2, 50,000.00 per semester for each Department, Units and University Centres.
Application Procedure:
Departments/ units/centers must submit Application Form No SKDP01 along with detail program proposal to the Career Guidance Unit 

Program proposal should be included the followings:
a.       Introduction of the Program
b.      Objectives of the program
c.       The significance of the program
d.      Target Audience
e.      Venue, Date and Time
f.        Resource Persons (if required)  
g.      Program outline
h.      Detail budget
Career guidance units (CGU) will evaluate the application and the proposal and give their recommendation to the Vice-chancellor of the university.  

The Vice-Chancellor of the university will approve the applications. However, the vice chancellor reserves the right to reject or postpone any program. 

the relevant departments/ Unit/centre

the bursar of the university to make fund arrangement

Career Guidance Unit

Within two weeks after completion of the program, the relevant department/ unit/ center should submit a progress report to the Career Guidance Unit.